【GLOBAL】Celebrating DARE's 10th Anniversary: Crossing into the Next 10 Years
June 30, 2023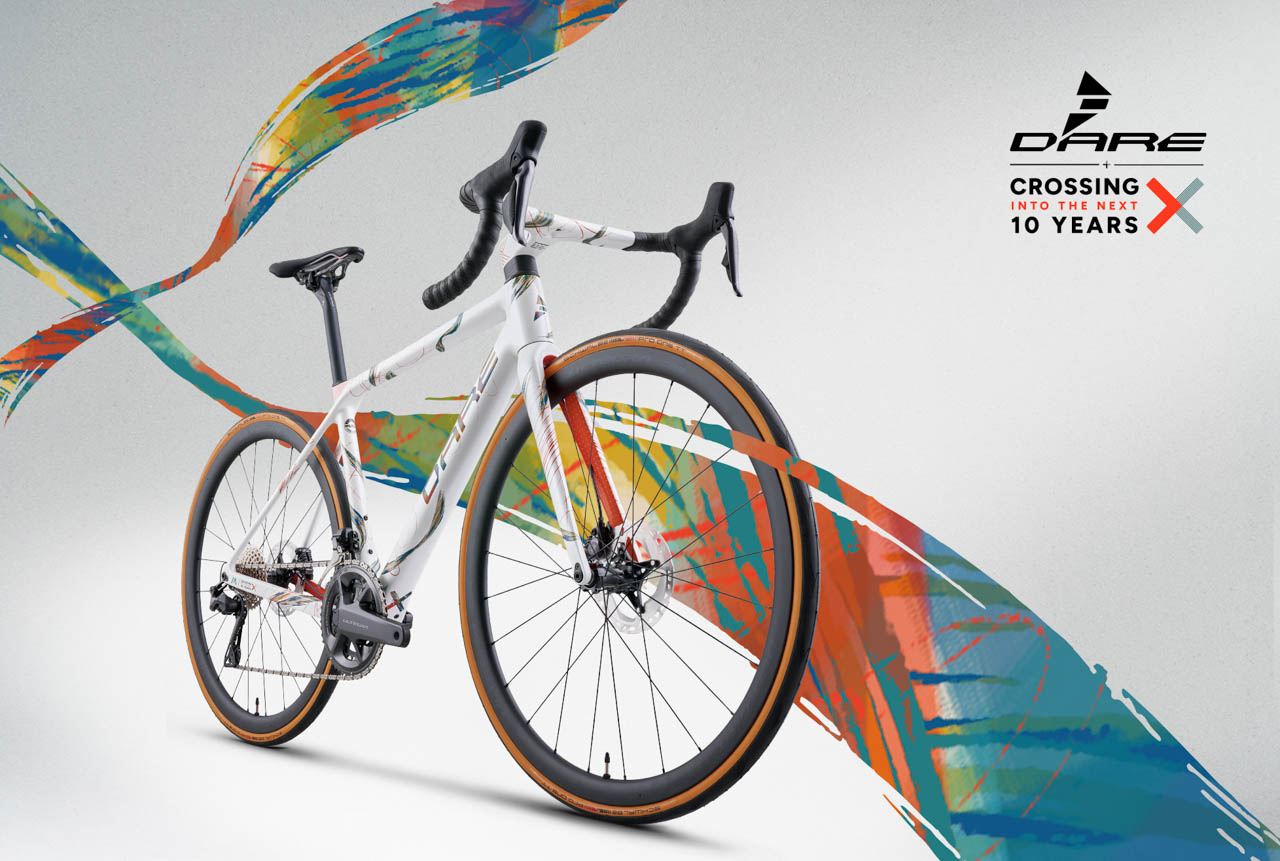 DARE Bikes is celebrating its tenth anniversary!
From our founding in 2013 until now, we've been working with cutting-edge technologies to bring cyclists distinctive, excellent products and fulfilling DARE's motto REAL RIDE with our innovative spirit. It's thanks to all your support over the years that DARE continues to race forward!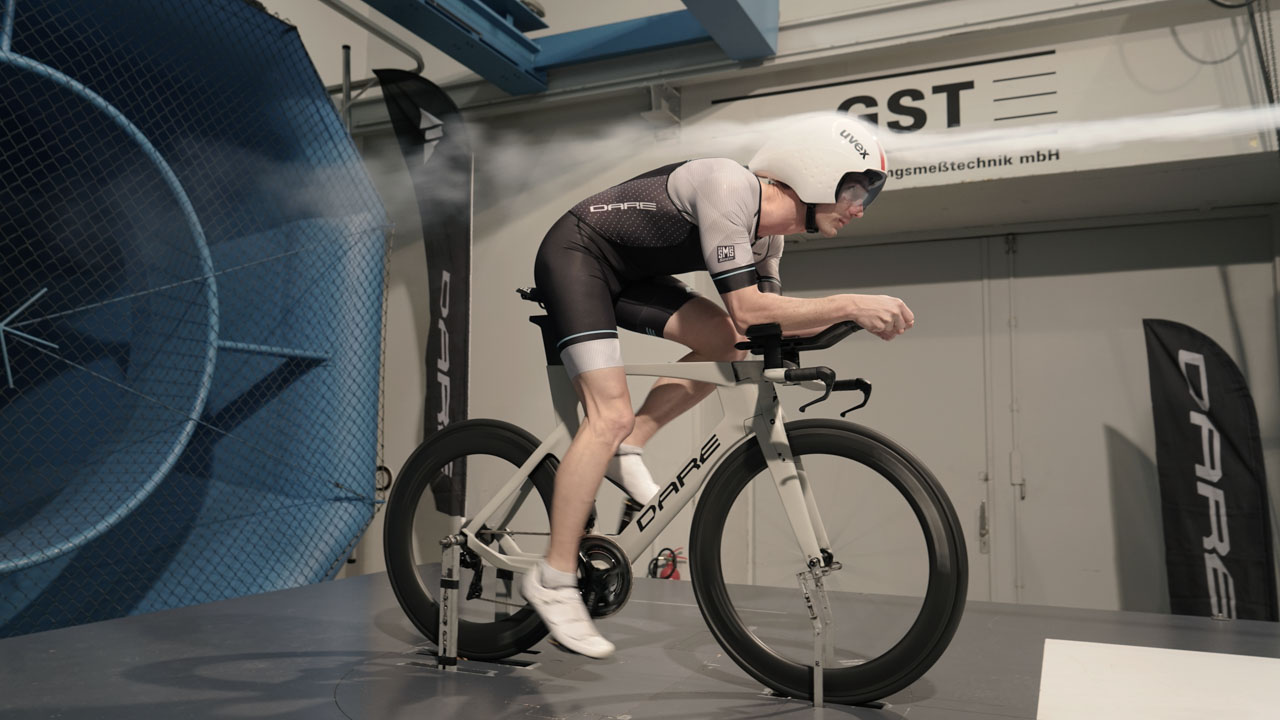 The Grand Tour
This year we've crossed an amazing milestone together with Uno-X Pro Cycling Team, stepping on to cycling's most revered stage. We hope you'll be cheering us on in July as we debut in the Tour de France!
Related news: DARE x Uno-X and the Grand Tour in France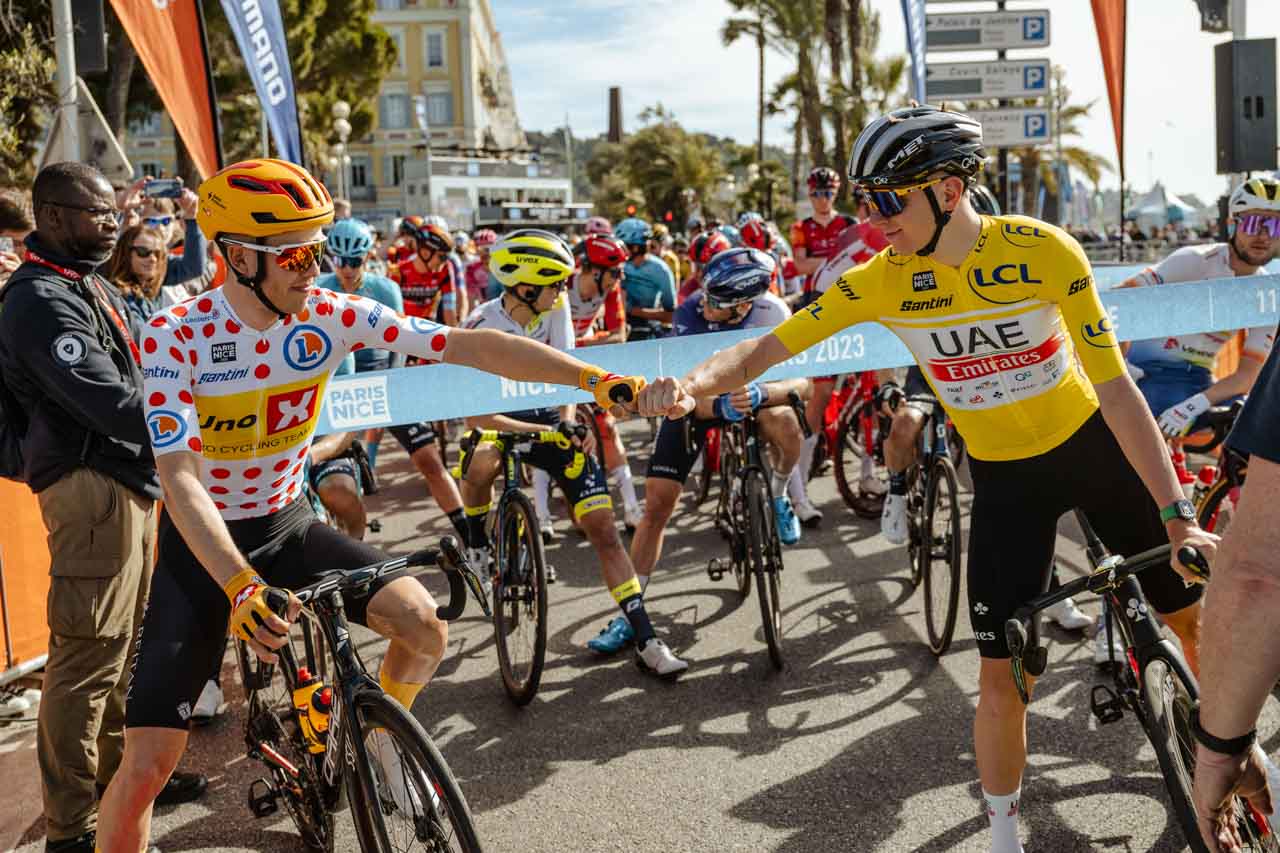 Photo by Szymon Gruchalsk, Paris-Nice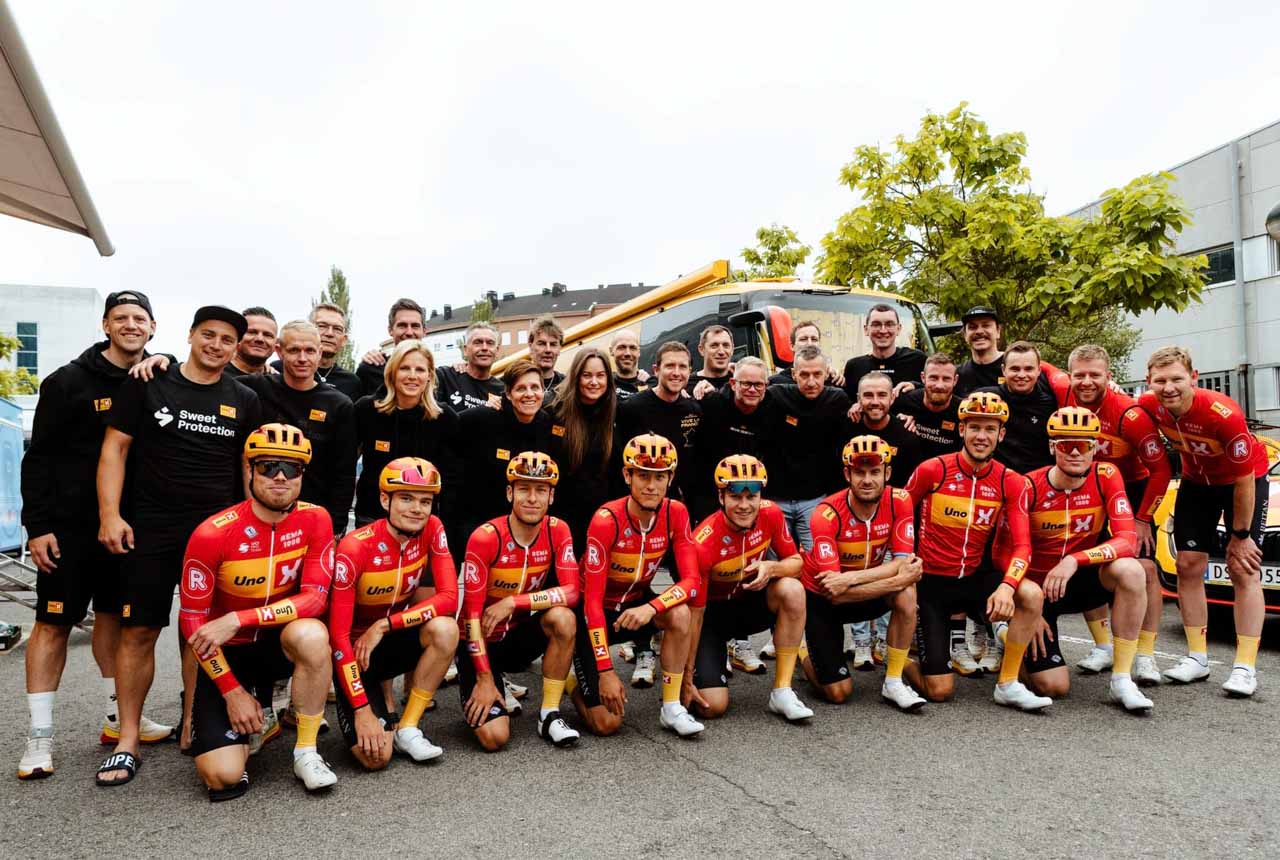 Photo by Wordup Projects
10th Anniversary Visual Design
Our main visual theme for DARE's tenth anniversary is an "X" shape, representing the Roman numeral for "ten" and when rotated 45 degrees, the Chinese character for "ten" as well. In the cycling world, "X" is also often used as shorthand for "cross". Last but absolutely not least, you might be able to find the arrow we've hidden in the symbol, pointing forward. The future holds endless possibilities and triumphs, be daring!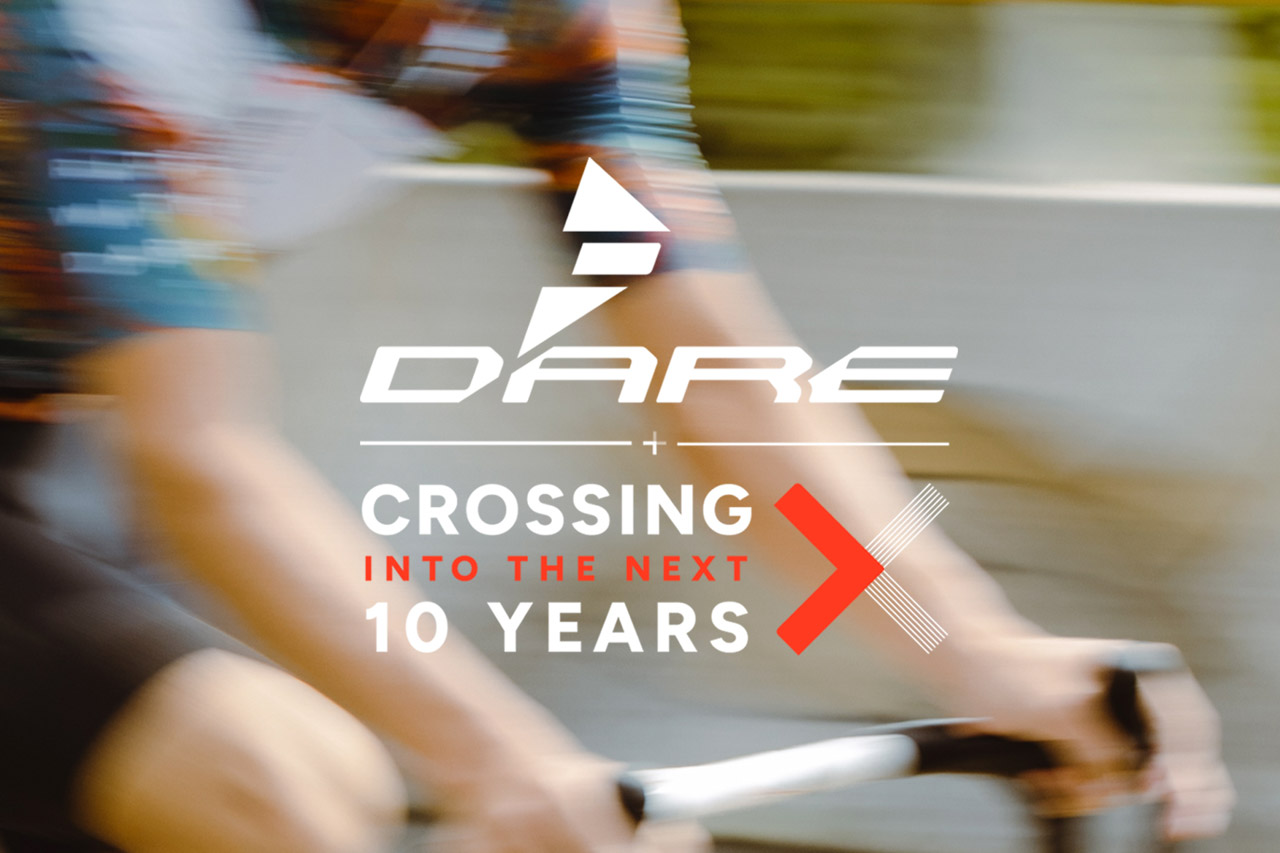 Anniversary Framesets
A selection of anniversary events and limited edition products are available over the next few months.
First up is the MA-AFO Anniversary frameset, with paint illustrating the 10-year story and spirit of DARE, starting from a blank canvas of white and layered with brushstroke graphics of introspective blue-green, persistent gold, and passionate orange. This frameset comes with our all-new AERO1v integrated handlebars, completing the consistently unique look.
Our 10-year anniversary MA-AFO frameset design will only be available from now through October 31st, 2023, with a recommended retail price of 4,395 USD, so don't wait!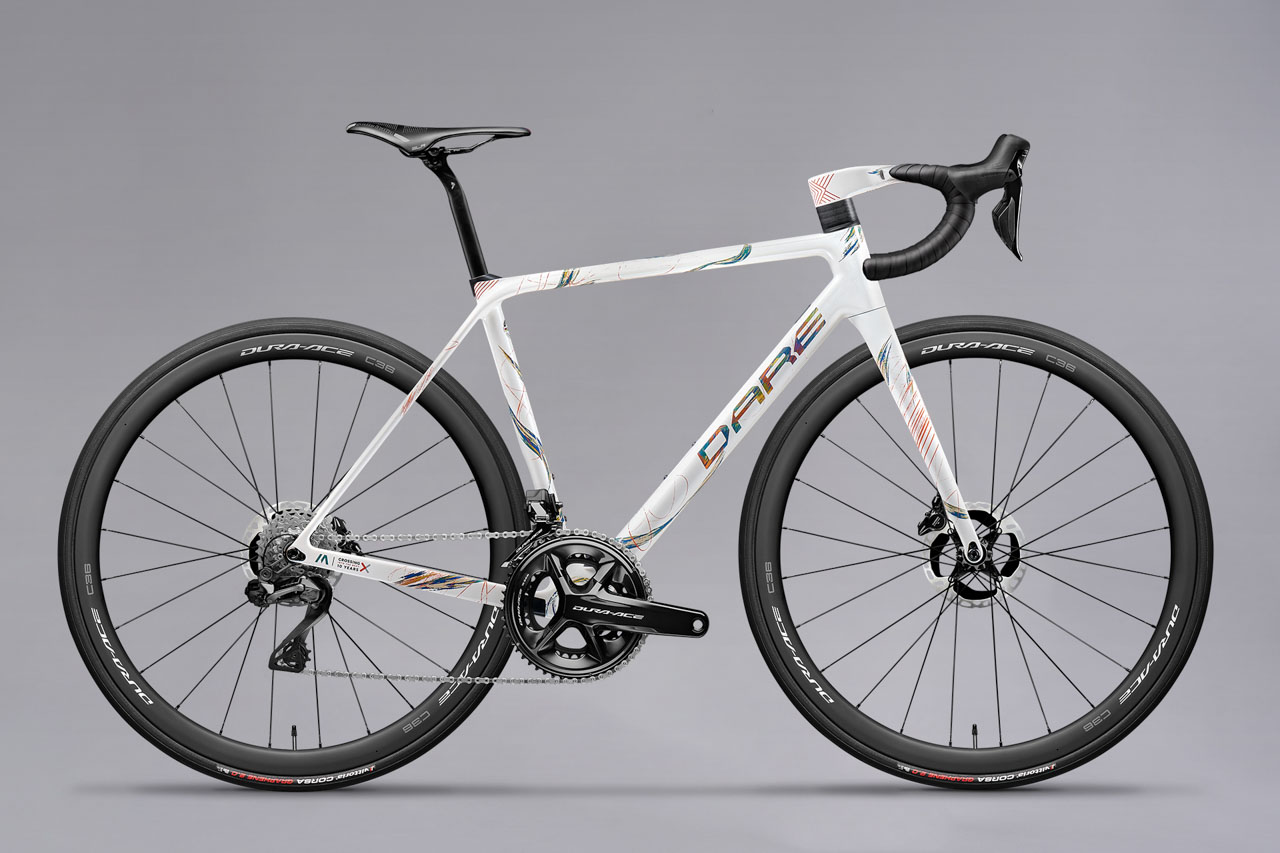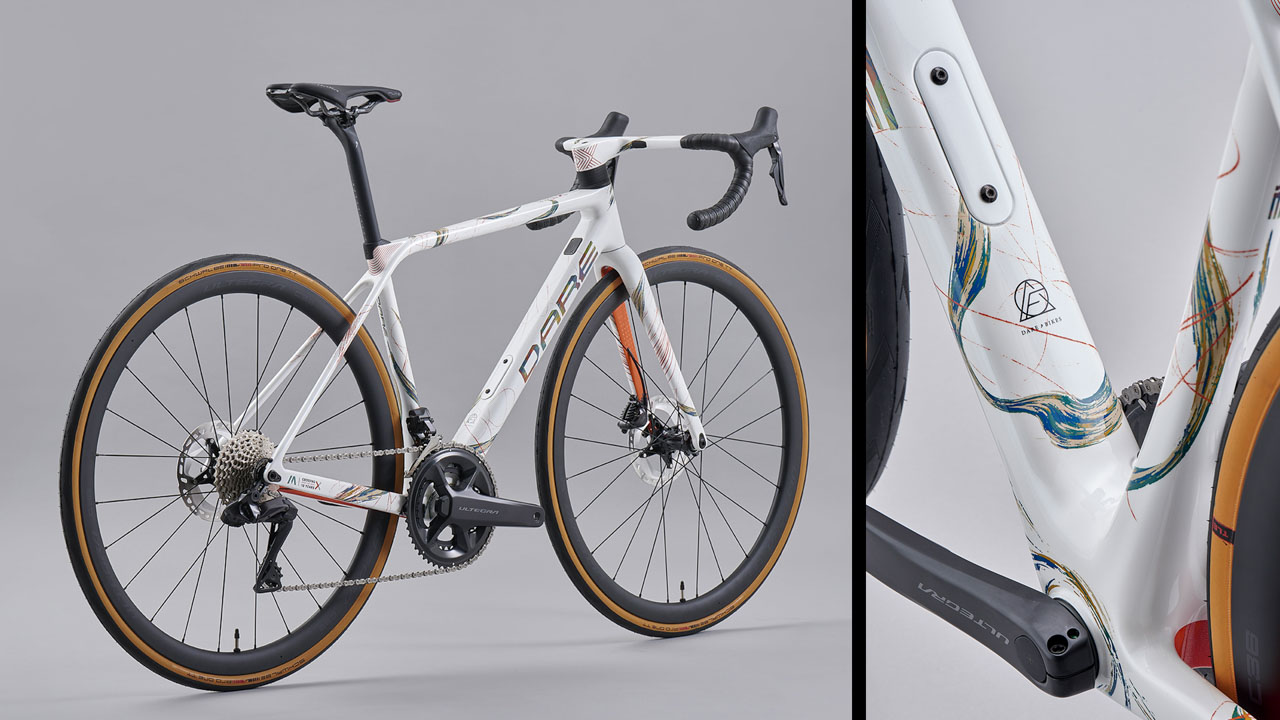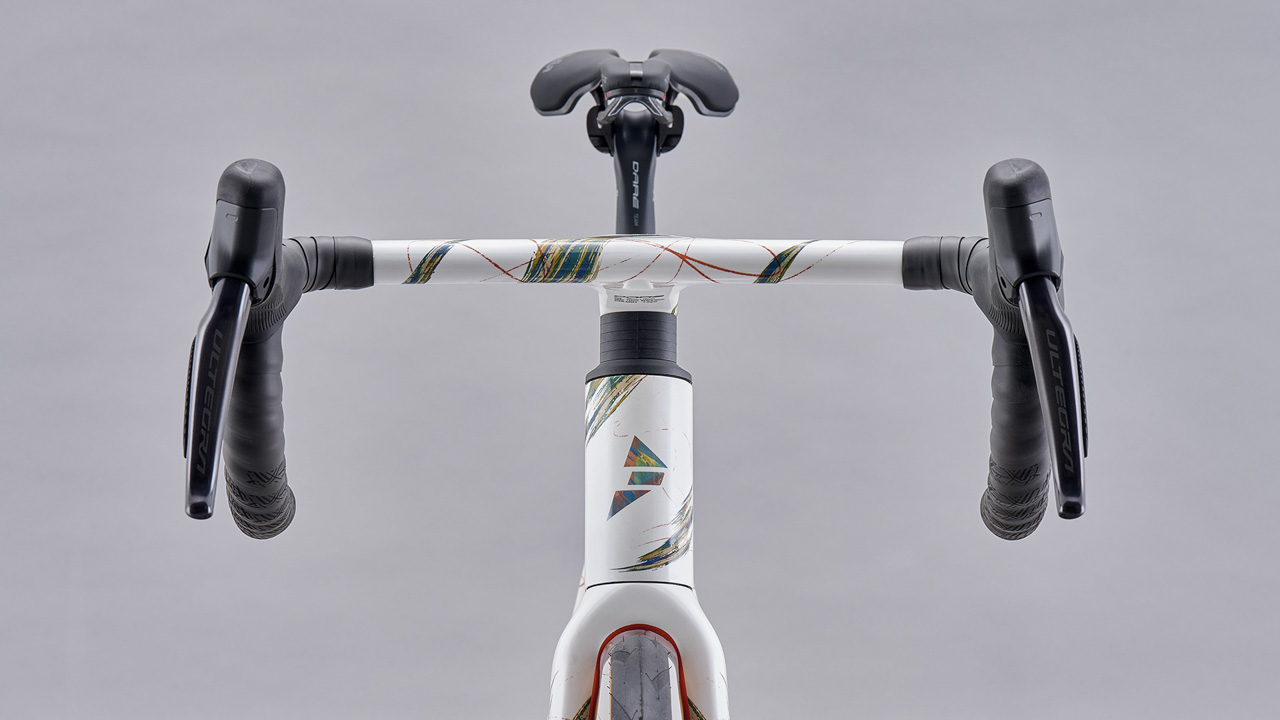 Limited Edition Merchandise
In addition to our anniversary frameset, we've also designed a limited edition cycling jersey and t-shirt worthy of your collection.
The stylish anniversary jersey (recommended retail price of 88 USD) is printed with both bright and reserved "X"s from our visual theme, rotated and layered on each other in a bold kaleidoscope of colors.
Our anniversary t-shirt (recommended retail price of 38 USD) also utilizes the 10-year logo and comes in classic black or white. The white version will only be available at our group ride events, so if you'd like to collect all our apparel, make sure to keep an eye out for our anniversary group ride announcements!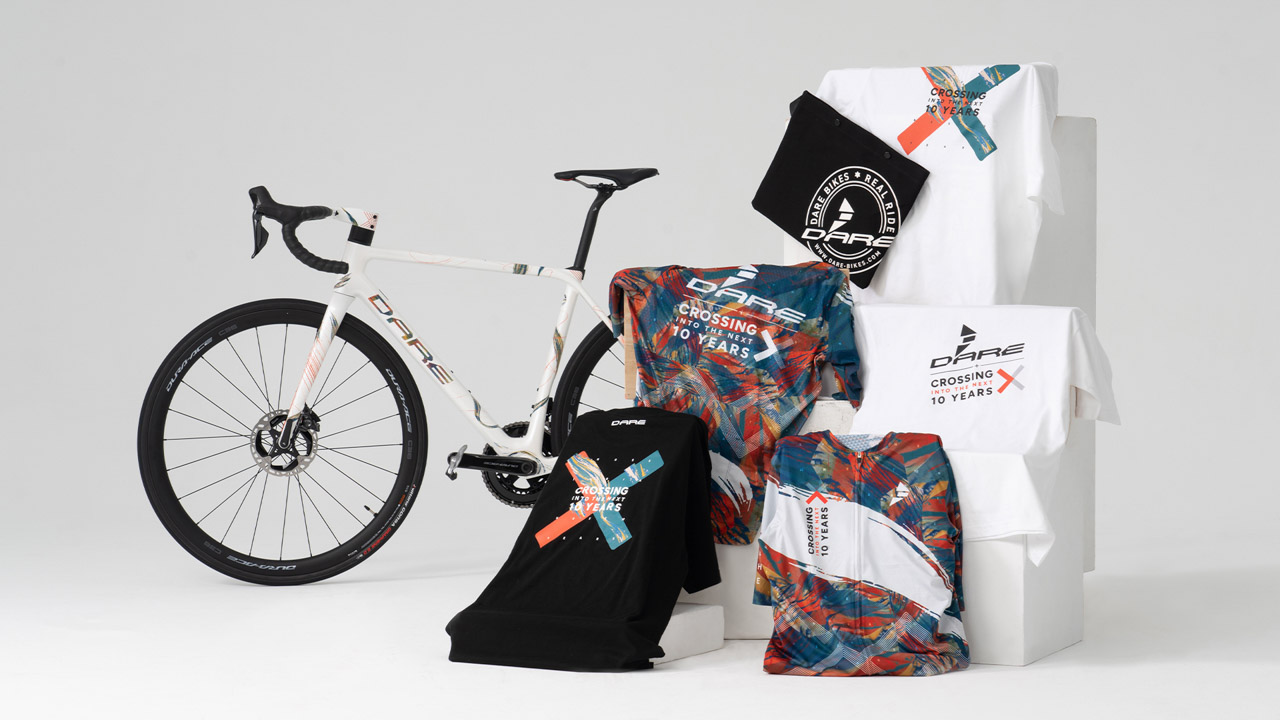 Global Group Rides
DARE and partners will be hosting 10-year anniversary group rides in several cities, and we invite DARE fans all over the world to don our anniversary jersey and join us in lively celebration! Group ride participants will receive the limited edition anniversary jersey and white anniversary t-shirt, as well as a DARE cycling musette.
As conditions may vary for each group ride, we invite you to visit our official 10th Anniversary event webpage for more detailed information.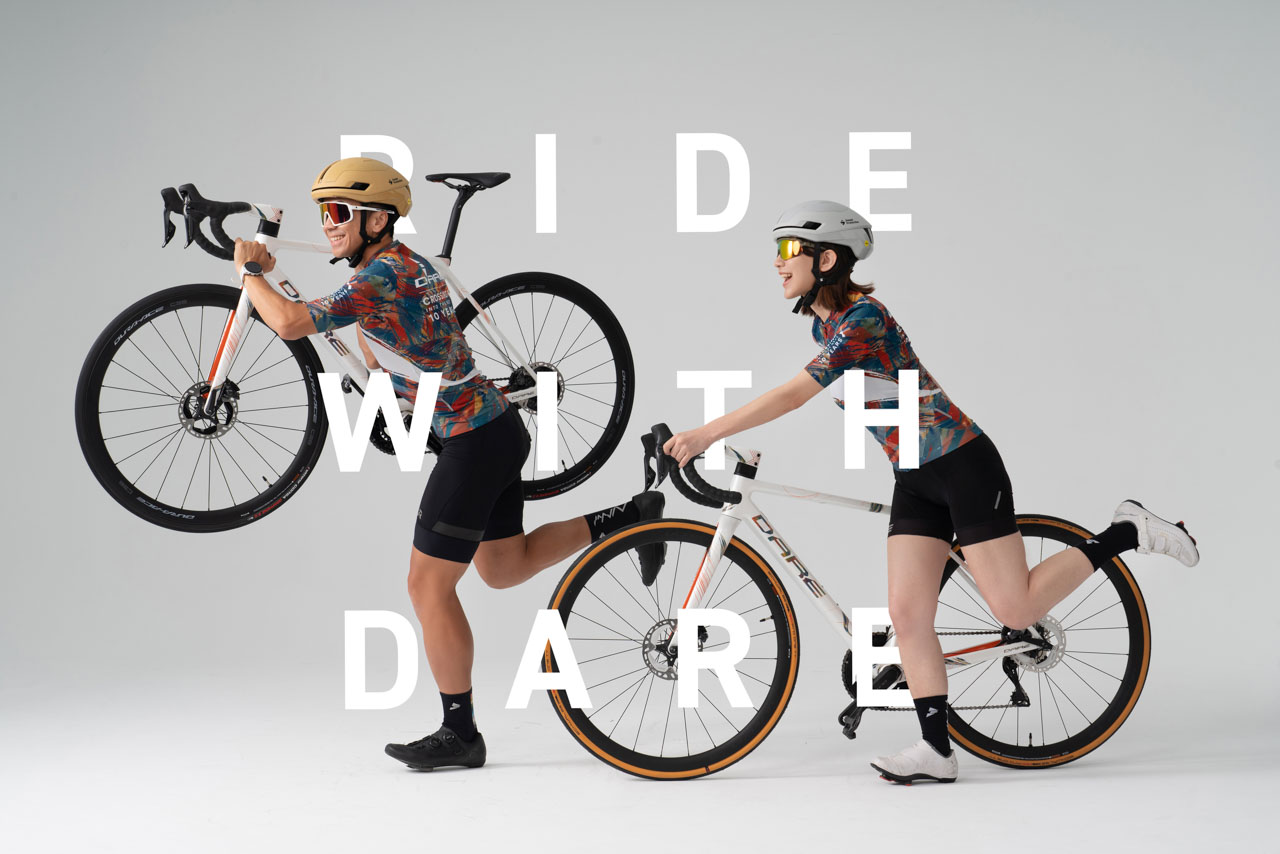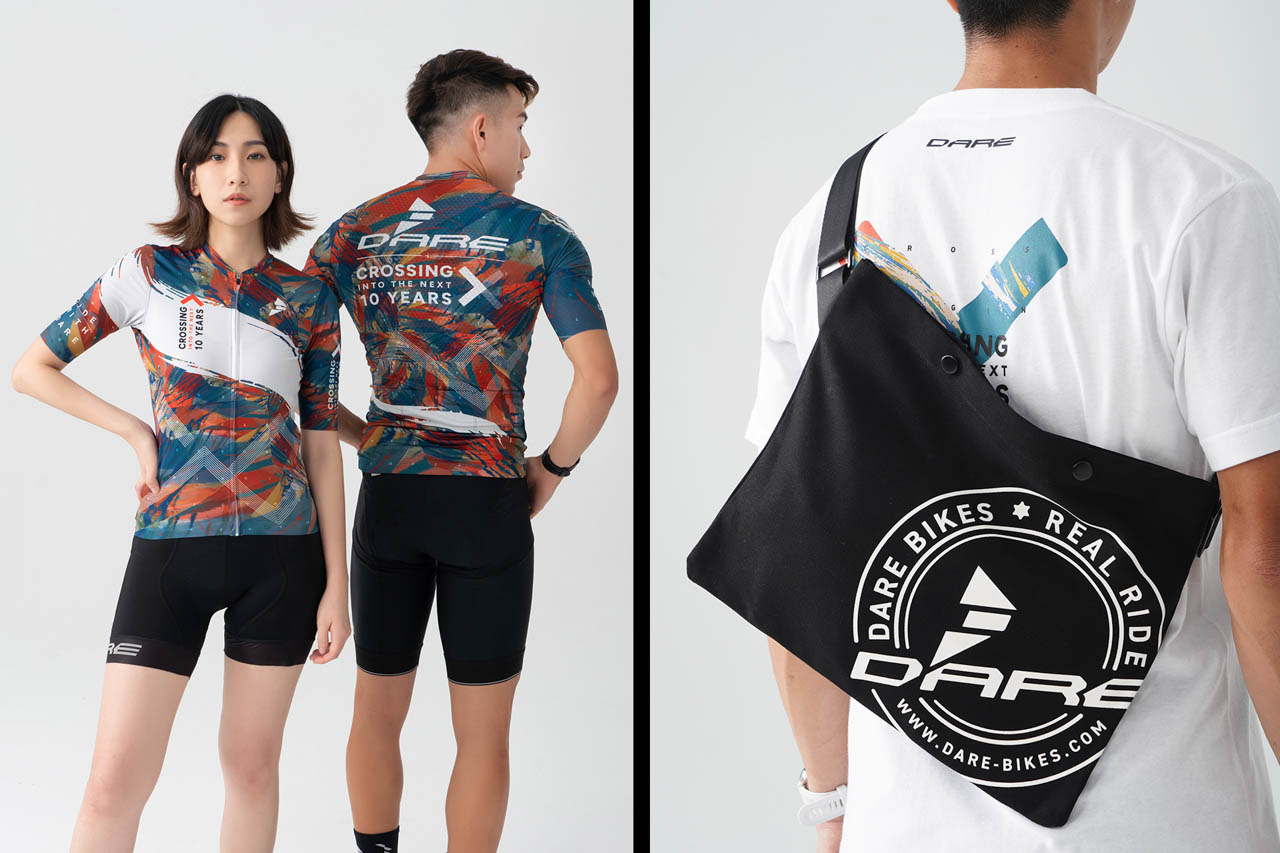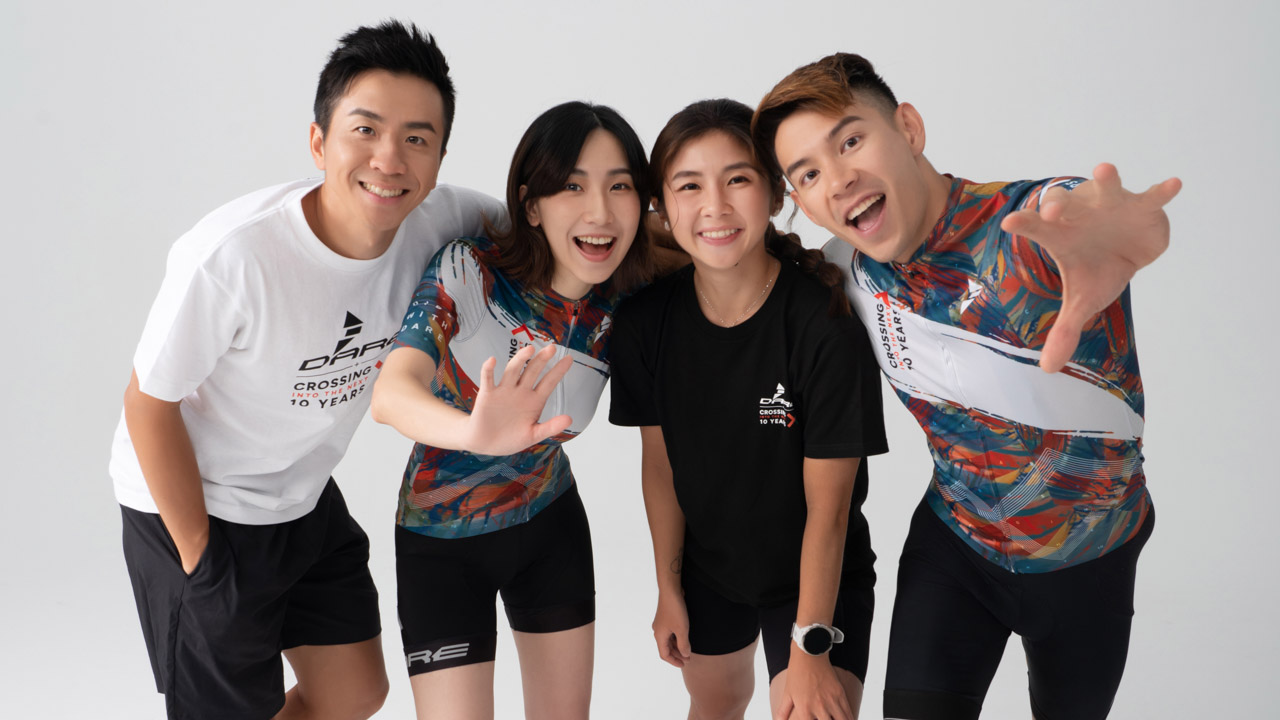 Anticipating the Next Chapter of the Journey
With ten years behind us, we have endless stories we could tell. Built on a foundation of solid design, development, and marketing expertise, DARE has time and time again conveyed its quality and character through outstanding products and strong relationships with others passionate about cycling. Our solid foundation has reaped today's flourishing results, and the future looks equally bright. We have so many more unique ideas to bring to cycling, and we hope you'll join us on the journey ahead.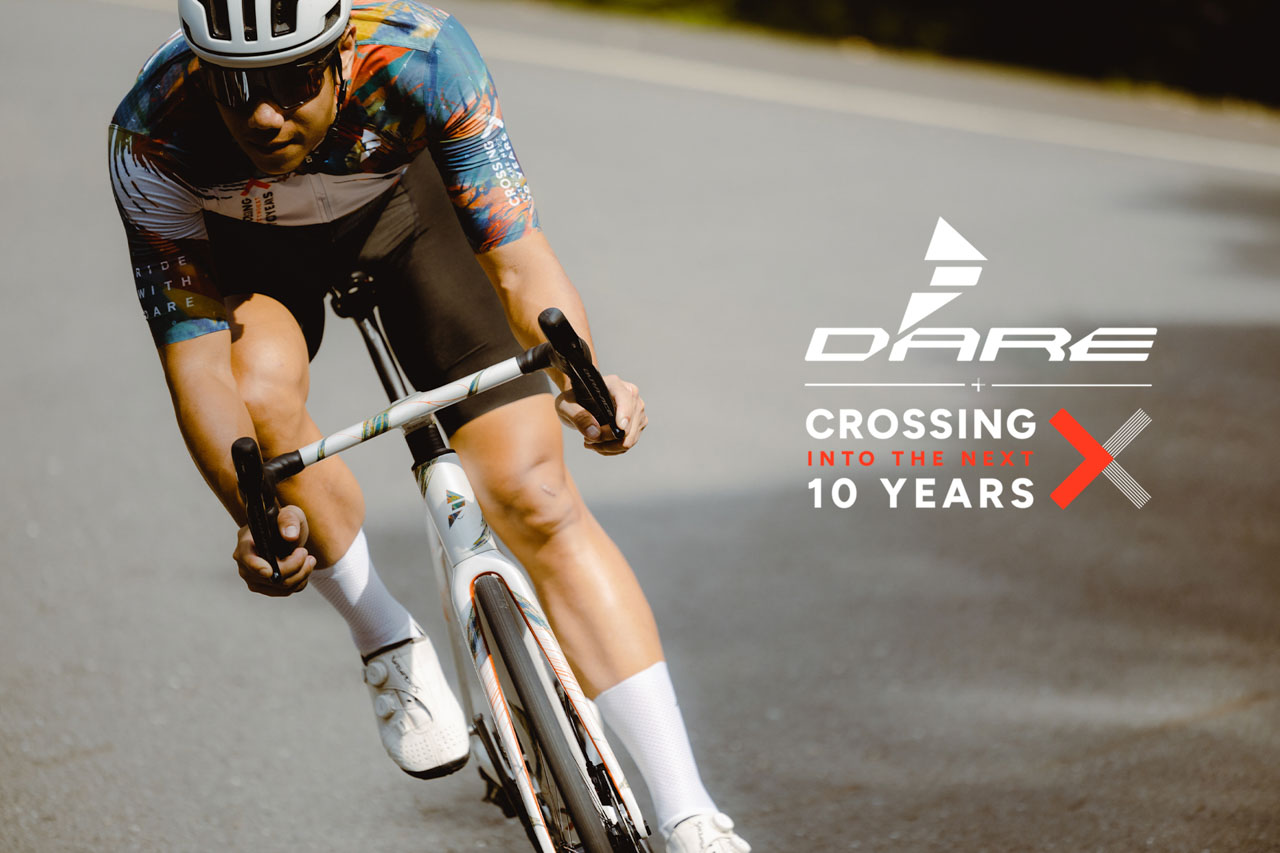 【 DARE's 10th Anniversary Official webpage 】
Back to News