10TH ANNIVERSARY EDITION

Designed with paint illustrating the 10-year story and spirit of DARE, starting from a blank canvas of white and layered with brushstroke graphics.

NEW FORCE COMING THROUGH

The women's team will race on MA-AFO this year in their pursuit of a spot on the podium at Tour de France!

MA-AFO: GRIT BLACK

"Real change, enduring change,
happens one step at a time." -- Ruth Bader Ginsburg

STRENGTH, EQUALITY, GRIT

Every kilometer put down, every personal record broken, is another push to keep improving, keep moving forward!

MOUNTAIN ACE, MA-AFO

MA-AFO is DARE's newest ultra-lightweight competitive road bike that will reign over mountains and races!

MOUNTAIN ACE, MA-AFO

MA-AFO is DARE's newest ultra-lightweight competitive road bike that will reign over mountains and races!
[ ACE Intergraded Handlebars ]
The new internal routing Ace system is available along with lightweight VETOX ACE or ERGO ACE handlebars for all your aerodynamic and light-weight needs.

Each component is built with high-stiffness M46 carbon fiber, aiding stable power output on climbs or during bursts of speed.

[ Compatible Handlebar System ]
MA's compatible design for various handlebar systems can be assembled with internal routing ACE system, a beautiful integrated cockpit or a traditional easy-to-disassemble handlebar.

[ DARE Graphene Tensile Modulus Prepreg (DGTM) ]
We fused the revolutionary material graphene with special epoxy resin in UHM prepreg, and successfully created DGTM prepreg that is stiffer with increased impact resistance.

[ Water-resistant Hidden Seat Clamp (WHS) ]
The hidden seat clamp and water-resistant cover perfectly merge with the frame design as well as lower the wind resistance.

[ Total Synchro-Integrated Cable (TSIC) ]
TSIC is an integrated internal routing system that conceals the derailleur cable and brake within the frame completely. In addition to perfect compact profile, turbulent flow and interference from cables for time trials are both configured to minimize air resistance.

[ 30C Tire ]
Because of the growing popularity of wider tire widths, the MA's front fork gives more tire clearance that can accommodate up to 30C tires. The seat tube angle is adjusted to help pump out power evenly from a rider's leg muscles, increasing comfort and endurance.

[ Di2 Intergrade (Di2I) ]
Instead of hiding a Di2 battery mount in the seat post like previous designs, we integrated the battery mount within the down tube to avoid the inconvenience of needing to remove the seat post.
Geometry
MA-AFO
all size chart (mm)
Frame size

XXS
XS
S
M
L
XL
2XL

Height (cm)

149

I

157

157

I

165

163

I

173

170

I

182

174

I

185

183

I

192

184

I

198

390
430
450
490
510
530
550
498
512
523
541
555
575
590
85
94
110
124
149
171
195
410
410
410
410
410
410
410
968
969
975
974
989
999
1013
70.25
71.25
72
73
73
73.5
73.5
74.5
74
74
73.5
73.5
73
73
77
77
74.5
74.5
72
72
72
361
367
374
381
389
397
405
493
505
520
534
560
583
606
691
719
741
772
794
814
836
375
375
375
375
375
375
375
51
51
51
45
45
45
45
Integrated Handlebar
All carbon molded integrated handlebar, comparing with the separate stem and handlebar combination, we offer up to 12 sizes to choose from. Please see the chart for comparison.
Size:
H1
~
H12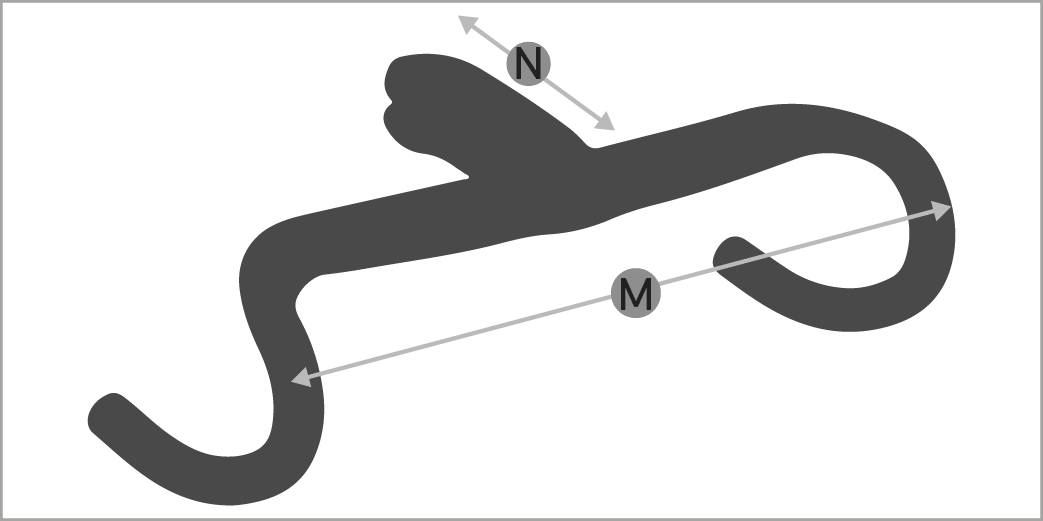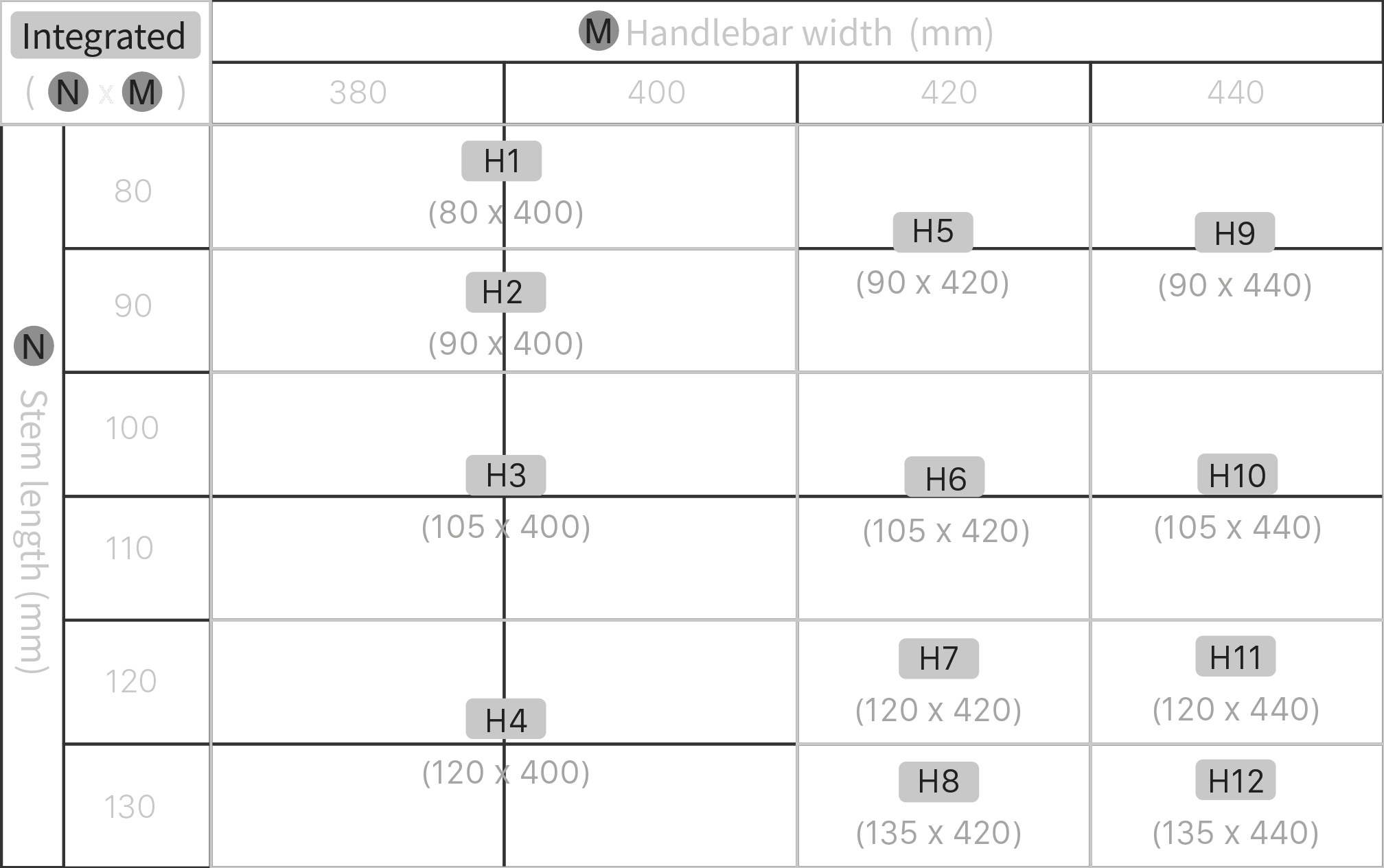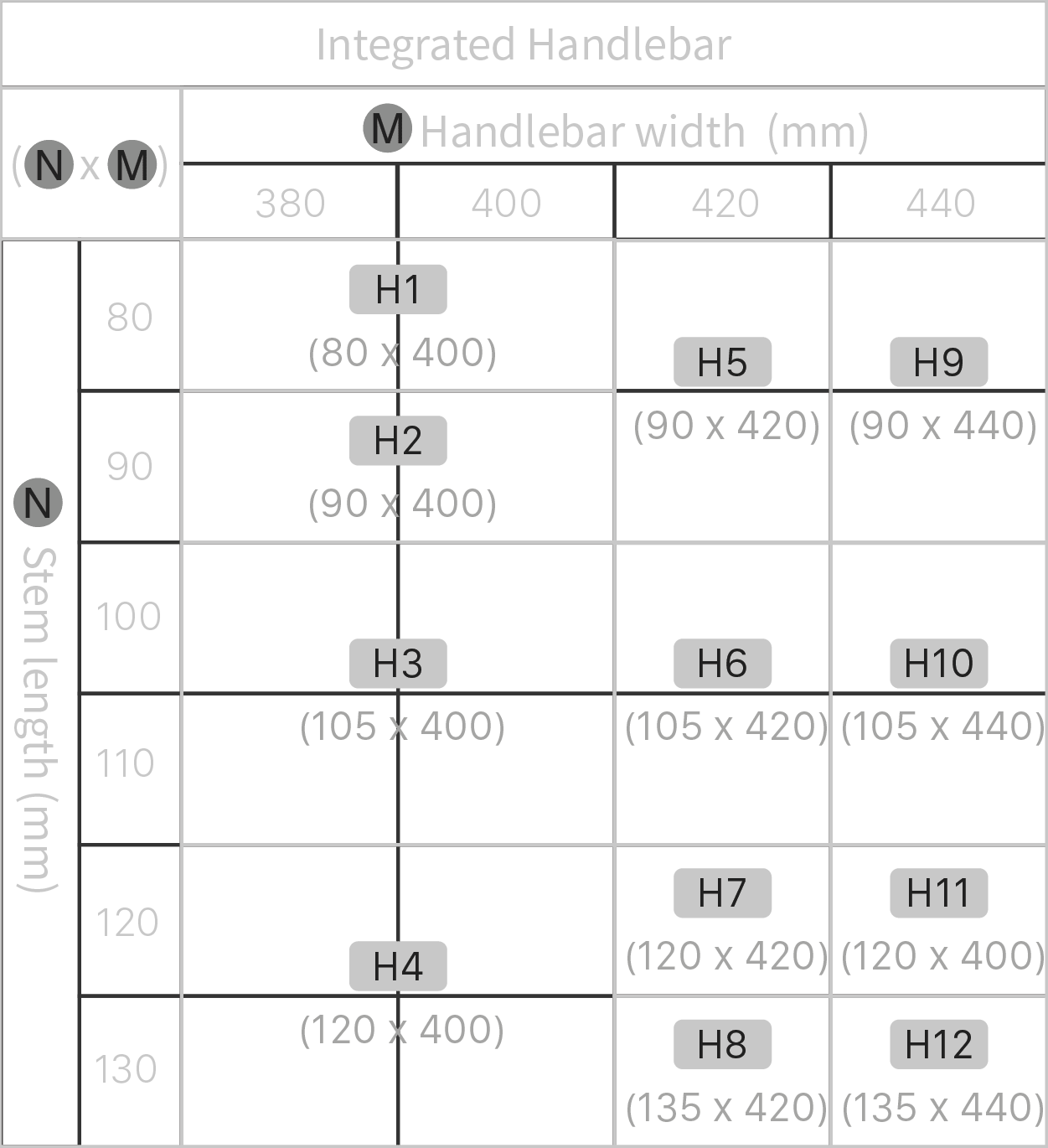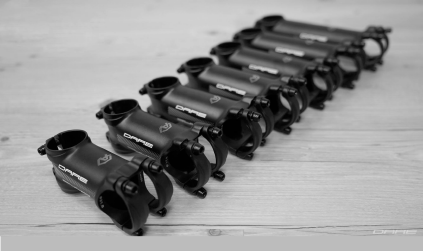 MyDARE Stem Change Offer
Once you find that the stem doesn't fit you, you can replace the old stem with a new stem of a different size for free!
Now you can save the hassle with DARE's "Stem Change Offer"! When you purchase a DARE bike online, in addition to freely selecting a stem of the right size, you can ask for a second stem within one month of receiving the product. This means that you will get a brand new stem for free!